The 2nd International Joint Conference on Theoretical Computer Science is Successfully Held
Time : 2021-08-23
Source : CFCS
Author : CFCS
The 2nd International Joint Conference on Theoretical Computer Science (IJTCS 2021) was successfully held online and offline from August 16th to 19th, 2021 at Peking University. Co-organized by the Center on Frontiers of Computing Studies (CFCS), Peking University, China Society for Industrial and Applied Mathematics (CSIAM), China Computer Federation (CCF), and Association for Computing Machinery China Council (ACM China Council), IJTCS 2021 hosted 10 parallel sessions and 5 featured forums covering the fields of algorithmic game theory, blockchain, multi-agent reinforcement learning, theory of machine learning, quantum computing, machine learning and formal method, algorithm and complexity, and EconCS. Around 100 international experts and young scholars shared their latest research and frontier development trends in various fields. The conference was live-streamed on 6 platforms for 14 hours per day, attracting more than 10,000 viewers in total.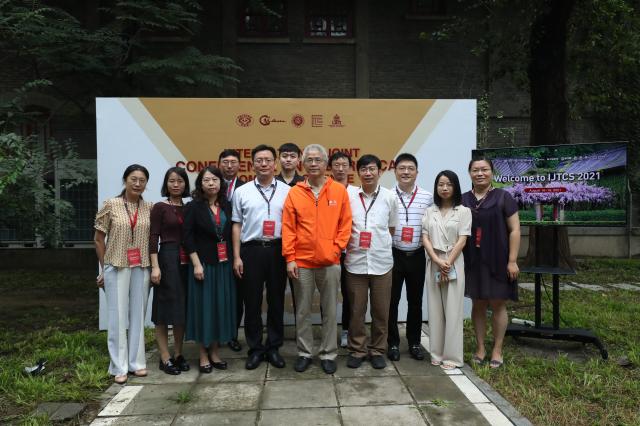 Group Photo at the Opening Ceremony
Professor John Hopcroft, Turing Award winner and director of CFCS, serves as the conference chair. Professor Xiaotie Deng from Peking University is appointed as the general chair. Professors Wen Gao (PKU), Hong Mei (CCF President) and Pingwen Zhang (CSIAM President and PKU) are the advisor committee chairs. Professor Xiaoming Sun from Chinese Academy of Sciences is titled program committee chair. Several internationally renowned experts and scholars including Professor Manuel Blum (Turing Award winner) expressed their best wishes to IJTCS 2021 through a video.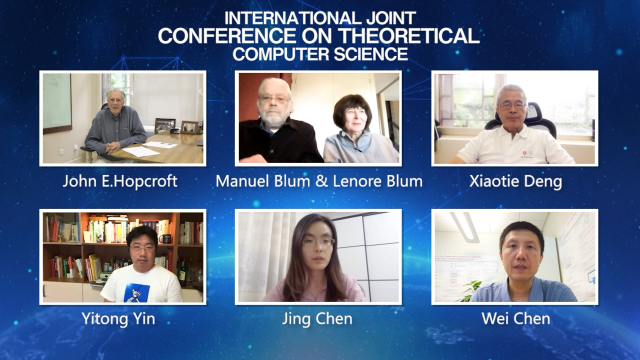 Opening Remarks
At the opening ceremony, Professor Xiaotie Deng, general chair of IJTCS 2021 and chair professor of CFCS, Peking University welcomed everyone for participating the conference. Professor Deng expressed delight for continuing holding IJTCS and put forward higher expectations on IJTCS 2021: to build the brand of China's theoretical computer science (TCS) conference; to provide a high-level of international exchanges platform for the domestic experts, scholars and students in the field of TCS; to promote Chinese scientists to become international leaders in the field of TCS.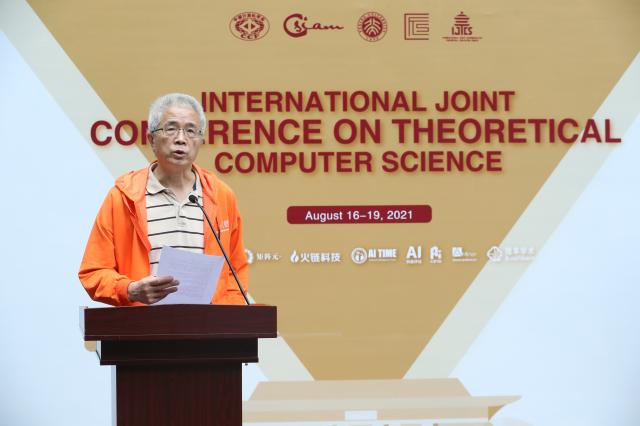 Professor Xiaotie Deng at the Opening Ceremony
Professors Manuel Blum and Lenore Blum, chair professors at Carnegie Mellon University, visiting chair professors at Peking University, were invited to deliver a keynote speech---Insights from the Conscious Turing Machine (CTM), and to chair the CTM Undergraduate Research Forum. A number of undergraduates from Peking University presented their research. Professors Manuel Blum and Lenore Blum praised that the high-quality work that the students have done is even comparable to some doctoral students from top universities in the world.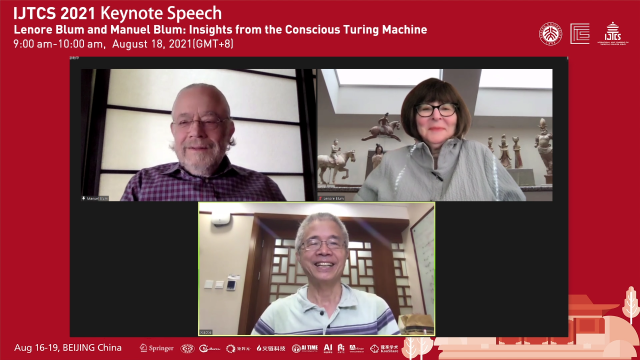 Professors Manuel Blum and Lenore Blum in the Speech
Female Scientist Forum, Young PhD Forum, CFCS Young Faculty in TCS Forum, Blockchain Forum and Undergraduate Research Forum were specially featured in IJTCS 2021 to showcase the active power of female in TCS, the rising stars in TCS, the infinite potential of young faculty at CFCS, and the thinking collision and inspiration between industrial and academic community in the fields of blockchain and EconCS.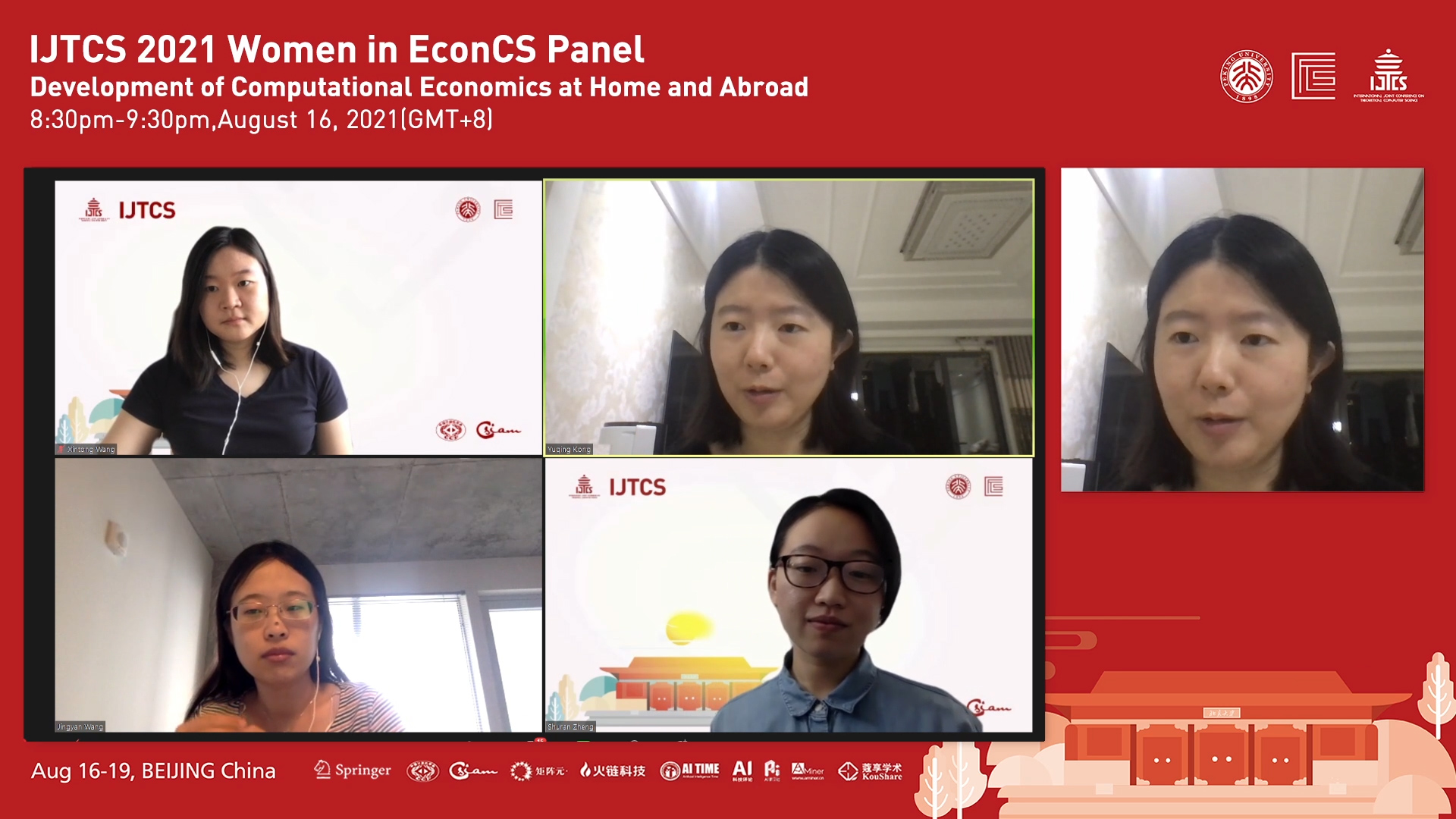 Female Scientist Forum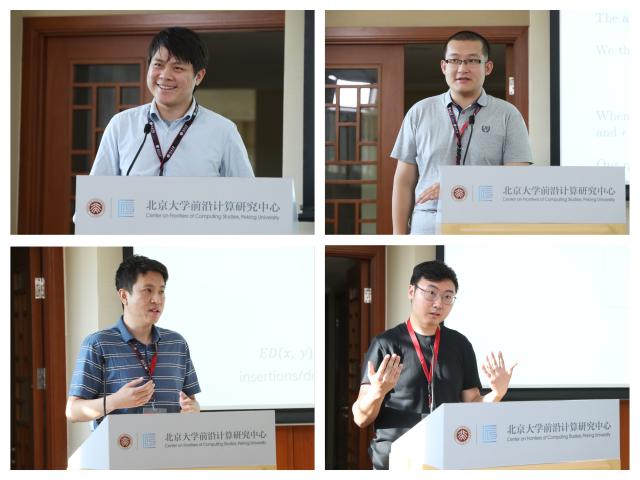 CFCS Young Faculty in TCS Forum
At the closing ceremony, Professor Xiaotie Deng congratulated the success of the conference and expressed sincere thanks to the organizing committee, invited speakers and volunteers. In particular, Professor Deng spoke highly of the young faculty who had recently returned to China to work in universities, and he was full of confidence in the thriving growth of theoretical computer science in China.
International Joint Conference on Theoretical Computer Science provides a high-level academic platform for exchanges and cooperation among researchers in the field of theoretical computer science. In the future, IJTCS will continue to focus on enhancing exchanges among researchers, promoting the cooperation between the theoretical computer science, the market and the community, thus making contributions to the advancement of theoretical computer science's research, popularization and promotion.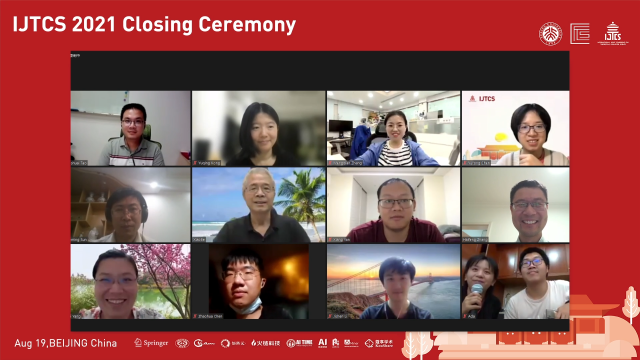 Group Photo at the Closing Ceremony