The 16th Conference on Web and Internet Economics is Successfully Held Online
Time : 2020-12-11
Source : CFCS
Author : CFCS
The 16th Conference on Web and Internet Economics (WINE 2020), organized by Center on Frontiers of Computing Studies (CFCS), Peking University, was successfully held online from December 7th to 11th, 2020 with the attendance of more than 300 people from the field of theoretical computer science, becoming the largest scale of conference in WINE's history. Xiaotie Deng, chair professor of CFCS, Peking University, served as the general chair of WINE 2020 Committee.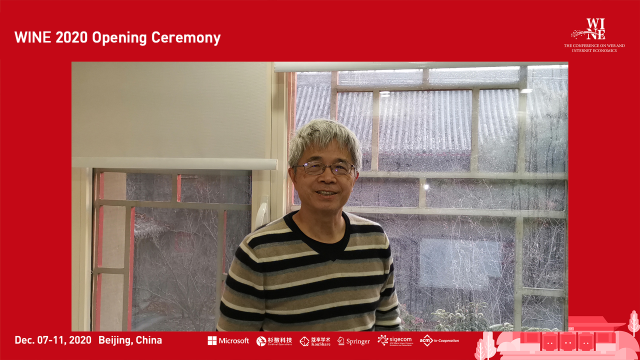 Prof. Xiaotie Deng, General Chair of WINE 2020 Committee
WINE 2020 focuses on the latest development and cutting-edge issues of internet economics and related disciplines, covering the topics of mechanism design, game theory, auctions, pricing, social choice theory, and etc. It consisted of six sub-forums, along with symposiums of Women in Economics and Computer Science, and Blockchain Game Theory. WINE 2020 was live-streamed 8 hours per day on three platforms (YouTube, Bilibili, and KouShare) per day, garnering over 10,000 views. Check out presentation videos of WINE 2020 accepted papers on YouTube channel: https://www.youtube.com/channel/UCkbCc-9vJXb4RZQA0wOPoTw .
Distinguished Guests Deliver Addresses at the Opening Ceremony
Over the past decade, research in theoretical computer science, artificial intelligence, operations research, and economics has joined forces to tackle problems involving incentives and computation. These problems are of particular importance in application areas like the Web and the Internet that involve large and diverse populations. The WINE is an interdisciplinary forum for the exchange of ideas and results on incentives and computation arising from these various fields.
More information about WINE 2020, please visit: https://econcs.pku.edu.cn/wine2020/index.htm