John Hopcroft Foundation Recognizes 2020 Outstanding Students
Time : 2020-11-20
Source : CFCS
Author : CFCS
On Friday, November 20th, 2020, the inaugural John Hopcroft Scholarship award ceremony was held at Peking University. 48 students from Turing Class were awarded in recognition of their outstanding performances in the academic year of 2019-2020.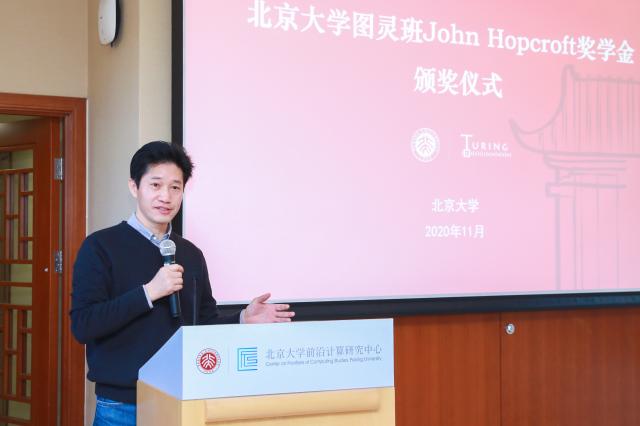 Professor Baoquan Chen, Executive Director of Center on Frontiers of Computing Studies, Peking University, hosted the ceremony. Professor Chen announced the establishment of John Hopcroft Foundation and congratulated the first batch of John Hopcroft Scholarship recipients. "In 2017, Professor John Hopcroft spearheaded the Turing Class Program at Peking University. Ever since then, he has been a true mentor of this program. John not only takes charge of the curriculum design, but also regularly teaches courses of Turing Class Program. He serves both as a mentor and a role model to the students. We establish John Hopcroft Foundation to honor John for his unequalled contribution to China's education," said Professor Chen.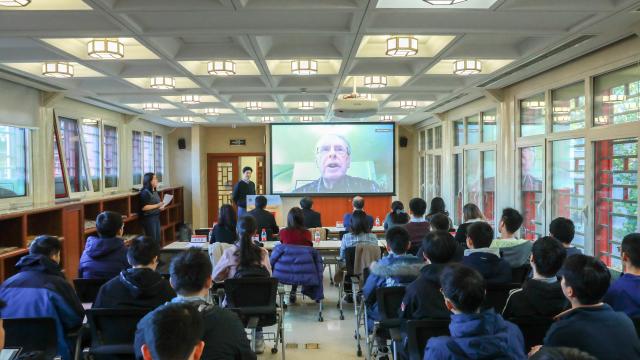 Professor John Hopcroft, Turing Laureate (1986), Visiting Chair Professor and Director of Center on Frontiers of Computing Studies, Peking University, attended the ceremony remotely and congratulated the scholarship recipients."Students receiving this award are some of the highest quality ones in China. I hope that many of them when they get their Ph.Ds. will choose to obtain faculty positions at universities in China and help create talents of computer science," said John.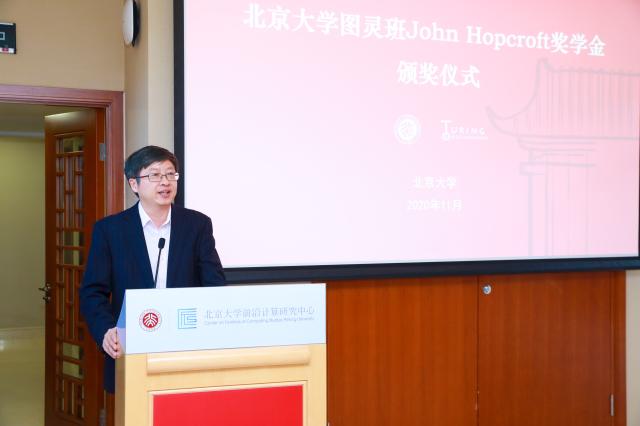 Professor Zhenjiang Hu, Chair of the Computer Science Department, Director of Turing Program Committee, reviewed the outstanding achievements Turing Class students have made in recent years. Professor Hu said, "With the support of John Hopcroft Foundation, we will improve the Turing Program to make the best environment for our students and hope that in the near future we can see some Turing Award winners will come out of our Turing Program."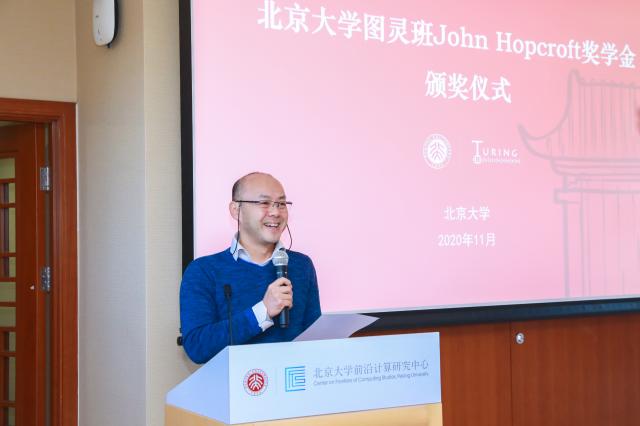 Professor Yizhou Wang, Vice Director of Center on Frontiers of Computing Studies, Peking University, Chair of John Hopcroft Foundation Committee, thanked all the companies that generously donated to the foundation. Professor Wang introduced that John Hopcroft Foundation will not only be utilized to award students who have achieved outstanding performances, but also to fund colorful academic activities, such as inviting Turing Laureates to teach courses to PKU Turing Class students, hosting CFCS Distinguished Lectures Series, and etc. "Talent is the world's most valuable resource. The development of the country needs a large number of talents, so do the companies. As the training base of talents, Peking University hopes to cooperate with companies in various forms and work together to promote the implementation of Turing Program, cultivating the next generation of leading talents in computer science, "said Professor Wang.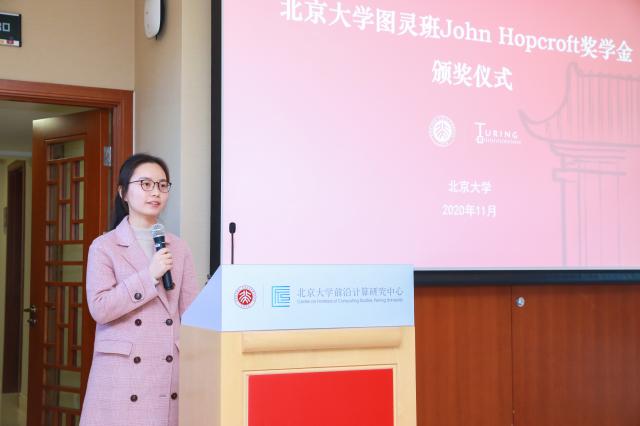 Chen Gong, representative of Turing Class (Class of 2017), summarized her feelings for studying at Turing Class in three words: connection, self-awareness and exploration. "Today's scholarship is awarded to all the Turing Class students, for our connection in each scientific research seminar and in each heart-to-heart talk, for our connection to the broad world built by computer science. I wish all of us can bring out the best in ourselves in the following days at Turing Class, "said Chen.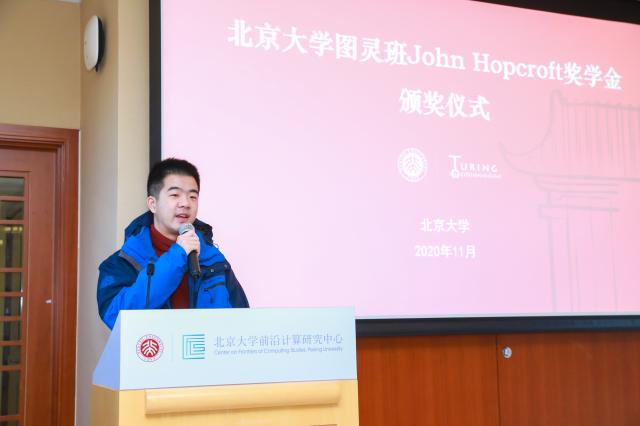 Yueyang Pan, representative of Turing Class (Class of 2018), expressed his gratitude to Professor John Hopcroft and all the teachers of Turing Class in his acceptance speech. He said, "Turing class provides lots of opportunities for students interested in and ambitious for computer science. In this class I learned a lot and changed a lot. From a junior knowing nothing about programming I gradually become a researcher on the right track. I will continue to try my best to be a qualified researcher and to push the boundary of knowledge in computer networks a little bit. I believe my endeavor would contribute to the future happiness of human being."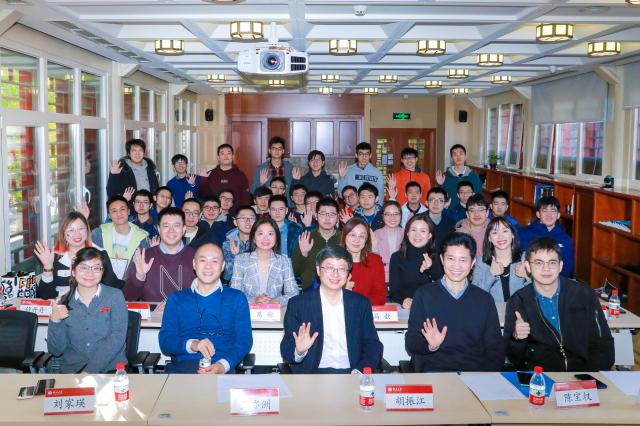 Group Photo
John Hopcroft Foundation, established in 2020, will help promote the implementation of Turing Program with the joint funding from all sectors of the society, comprehensively improve computer science and artificial intelligence education and talent cultivation level of Peking University, and thus cultivating a new generation of leading talents in computer science.